Welcome To Jump
MADE IN CANADA - FREE DELIVERY - 100 NIGHT TRIAL - MADE IN CANADA - FREE DELIVERY - 100 NIGHT TRIAL - MADE IN CANADA - FREE DELIVERY - 100 NIGHT TRIAL - MADE IN CANADA - FREE DELIVERY - 100 NIGHT TRIAL -
MADE IN CANADA - FREE DELIVERY - 100 NIGHT TRIAL - MADE IN CANADA - FREE DELIVERY - 100 NIGHT TRIAL - MADE IN CANADA - FREE DELIVERY - 100 NIGHT TRIAL - MADE IN CANADA - FREE DELIVERY - 100 NIGHT TRIAL -
ORIGINAL
COLLECTION
Discover The Original JUMP Mattress Collection featuring our revolutionary JUMP-Air Foam. Ideal for those who need additional back support and pressure relief.
ECO
COLLECTION
A mattress on a Mission. Made using sustainable materials, Repreve fabric and over 200 recycled plastic bottles, providing a luxurious comfort and unparalleled support. Featuring our JUMP-ICE foam that's 7X cooler than traditional memory foam.
NOT
YOUR
AVERAGE
MATTRESS-IN-A-BOX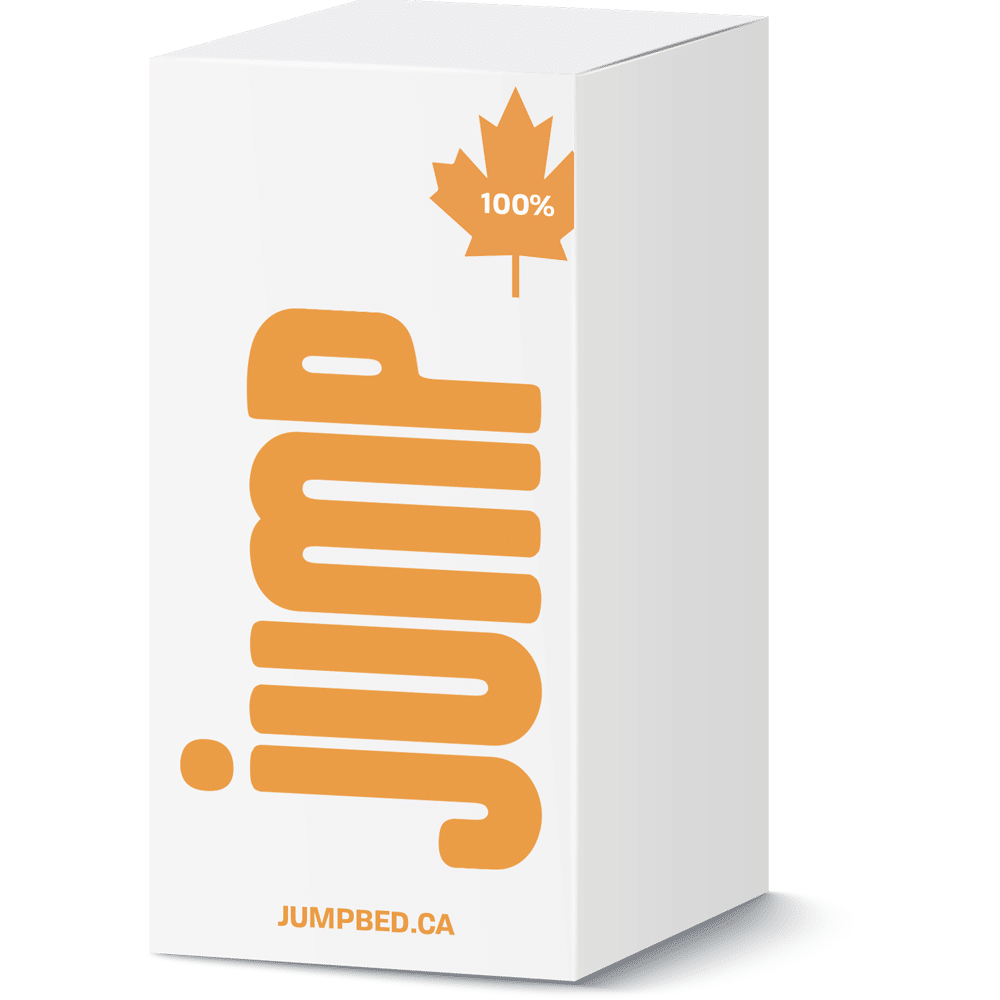 TOGETHER FOR OUR PLANET
5 TREES PLANTED FOR EVERY MATTRESS PURCHASED
1 TREE PLANTED FOR EVERY ACCESSORY ITEM PURCHASED
THE PILLOW
Comfortable, durable and eco-friendly, our zero-waste pillow was created using the same great components used in our Original JUMP mattress collection. It can be puffed and shaped for any body type, sleeping position or preferred thickness.
THE SHEETS
These lightweight bamboo sheets wick away moisture and prevent heat retention, creating the ideal sleeping environment throughout the night. Their silky-soft and lightweight fabric composition makes them ideal for all sleepers including those with allergies and sensitive skin.
BEDDING
Our waterproof protector will keep your mattress safe from normal usage and accidents. Hypoallergenic, machine washable and dryer safe, the JUMP Protector is a must for anyone who wants to protect their comfy mattress for years to come.
THE BED
A top-of-the-line platform that ensures excellent support and a good ventilation of your mattress. Crafted locally with renewable materials, this sturdy bed frames can be assembled in just 5 minutes and includes a USB port for your mobile devices.